Eepybird Studios makes award-winning viral videos for top brands. Our videos create an emotional connection with consumers, so that they don't ignore the ads — they share them. We make ads people want to watch.
Our first viral video, The Extreme Diet Coke & Mentos Experiments, woke up big brands to the power of viral video and started a revolution in online advertising.
"The most important commercial content of the year."

— Advertising Age
In the 7 years since then, Eepybird Studios' formula for viral success has connected global brands like Coca-Cola, Diet Coke, Coke Zero, McDonald's, Disney/ABC Family, Mentos, and OfficeMax with over 150,000,000 consumers worldwide.
As a result, our campaigns for Coca-Cola spiked 2-liter Diet Coke sales in the U.S. by 5%. Twice. And they boosted Mentos sales by 15%. For three years straight.
"The impact of a Super Bowl ad."

— Michael Donnelly, Director of Interactive Marketing, Coca-Cola
We not only make the videos, we wrote the book on what makes videos go viral. The Viral Video Manifesto: Why Everything You Know is Wrong and How to Do What Really Works (McGraw-Hill Business, 2012), spells out our proven, reliable method for creating contagious online content.
"The guys at Eepybird seem to have found the Holy Grail."

— Ty Kiisel, Forbes.com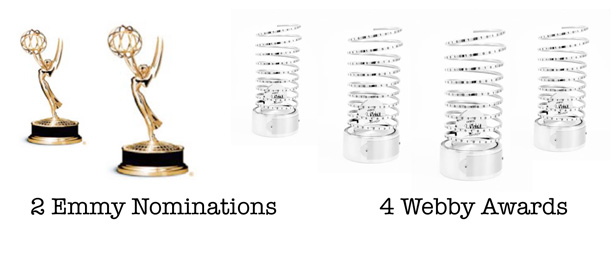 Voted "Online Game Changers of the Decade" at GoViral.com, our work has been featured in People Magazine, the New York Times, and the Wall Street Journal, as well as on television shows like The Late Show With David Letterman, The Today Show, and Mythbusters.
More and more, no one is watching traditional ads. It's time for brands to stop being ignored and start being shared.
Contact us today to see what viral video can do for your brand.